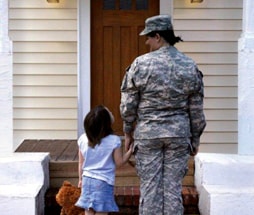 Owning a home is the American dream and a right you have defended. It's also one of the more difficult things to do for most, largely because of the few options left for buyers after the housing market crash. Lenders want to make certain that buyers are secure in their finances and have the ability to repay the home loan. For years mortgage loans have been available with little to no documentation which leads to under qualified individuals owning homes that they could not afford in the first place. Lenders have pulled back but still want to help Americans and the dream of owning a home. But first there is a step and one that you shouldn't avoid. Become educated of the ins and outs of homeownership and financial options available to you through traditional loans and VA loans as military and Veteran families. VeteransPlus' certified military housing counselors are here to help you make informed decisions about your future.
Most mortgage loans are backed by a real property such as the home you may be looking to buy. Essentially, the bank or lender agrees to provide you with the money needed to purchase the home, and in return you agree to repay that loan over a period of years through various types of payment options. The exact monthly payment will vary depending on your credit score, the interest rate, type of loan agreed upon, and the total figure amount financed. A monthly payment can range from between a few hundred dollars to a few thousand based on the above terms and the length of your home loan. The most popular term of a home loan is 30 years.
The amount of financing options has been reduced to avoid predatory lending as were available prior to the housing crisis. Still today, numerous housing loans and programs that are actually targeted towards specific groups of people who qualify for them. For you, the military service member or Veteran, VA home loans are available as mortgage loans backed by the Department of Veterans Affairs. It usually involves no money down, no prepayment penalties, and other benefits as well. It is important to understand that the VA does not lend the money to you, rather traditional banks make these loans and the VA insures them. Other programs could be available through community programs or first time home buyers and special loan options. It's imperative to survey all different options available and determine if you qualify for one of these special loan options since they offer numerous advantages others don't.
Lenders are there to make money and VeteransPlus counselors can assist you in determining the best home loan options based on your income, assets, expenses and liabilities. Additionally, lenders are avoiding the same factors that led to the collapse of the housing market by avoiding risky loans, so it is important that you understand lenders who approve you and your loan options well before getting into one.