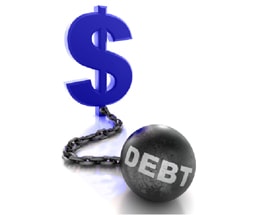 Does the word 'debt' send chills down your spine? For most military families it can mean the end of a military career. For Veterans it can mean homelessness. Unless you are debt free, it means something to all of us and those of us who seem to be drowning in it. But there are so many ways to avoid debt or at least manage it more successfully. In order to own homes or vehicles it's far easier to go into debt than to simply save for years, but with an effective budget and a bit of planning, everyone can avoid heavy debt. To completely understand debt, you must come to terms that you will owe the entire amount you have financed – plus interest – until the last payment. That is a commitment you must be willing to make prior to taking out a loan for something you want.
When you take out a loan you're a debtor, and the person you owe money to is known as the creditor. Common types of debt include credit card debt, personal loans, and housing or mortgage loans. Uncommon types of debt are payday loans, check cashing or payday advances and renting to own. The reasons for going into debt are obvious – you want or need to make a purchase but don't have the funds needed to do it at the moment. Instead of saving up money until you have enough, you can borrow the money now and repay percentages of it each month until totally repaid. That is the problem with debt today. Our entire country and its people are buying objects or "stuff" with money they have not yet made.
So many individuals make unwise decisions prior to weighing the options and ensuring that going into debt is the right option. For example, taking out a high interest payday loan to buy a T.V. now because you don't want to wait a month simply doesn't make sense. However, researching auto lenders and their rates prior to buying a new car does. Building a pros vs. cons table will often slow the process of a purchase and substantiate reasoning for going into debt, and deciding if it's worth it or not.
An astounding 52% of servicemembers who lose security clearance are a result of financial difficulty. Don't take on extra debt if you can't afford it, and always make your monthly minimum payments to avoid fees or additional charges. When possible, try to pay more than the monthly minimum and pay off items earlier than expected. Interest is slashed by making extra payments to principle. This rule is especially true with credit cards and high interest loans. If you are currently in debt, consider consolidation or debt management from a trusted source. VeteransPlus can assist you with the best way to overcome serious debt and discuss alternative options.